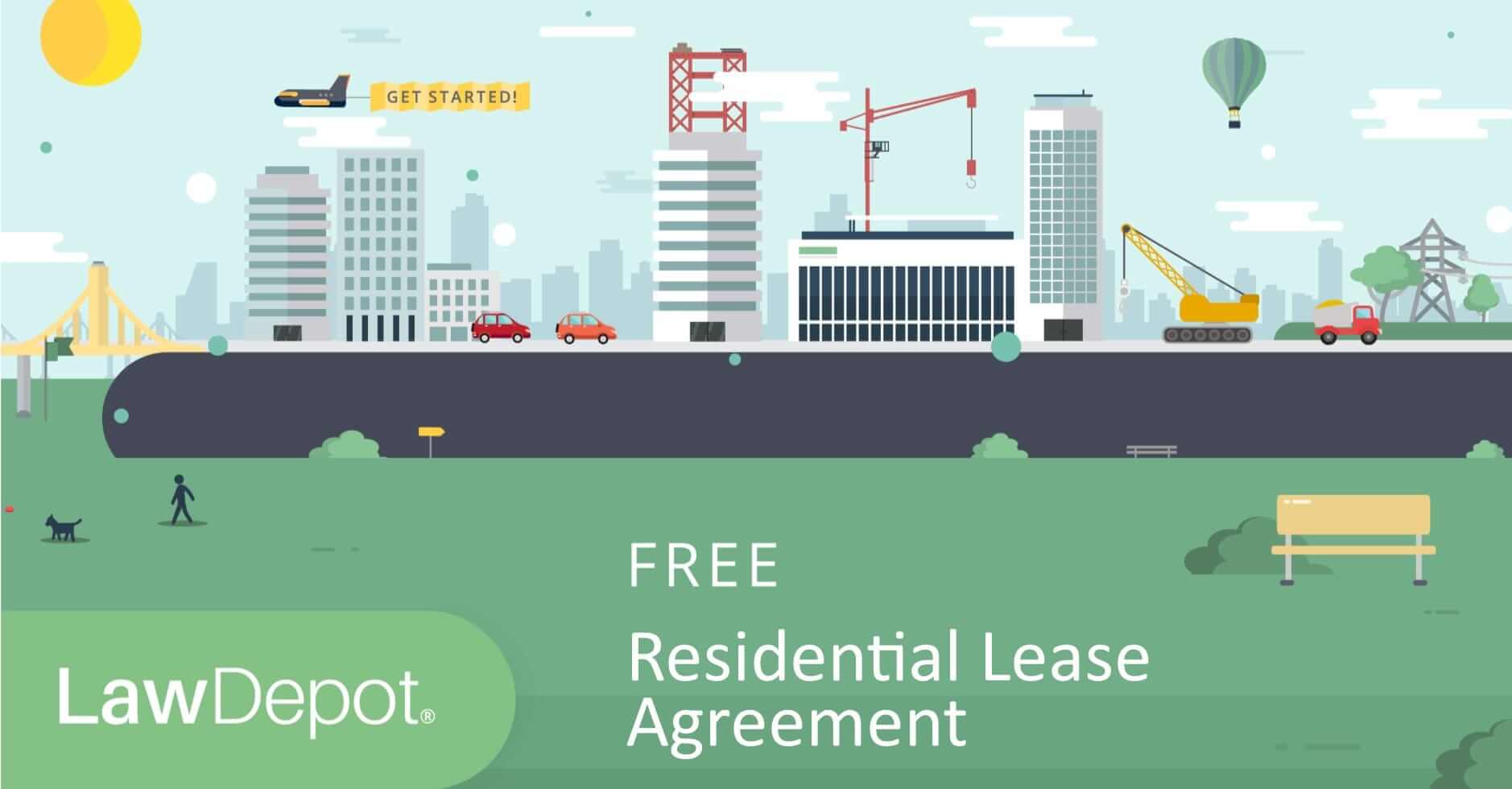 Last updated July 14, 2022
What is a lease?
A lease is a contract a landlord and tenant use to outline their rights and responsibilities when the tenant rents residential or commercial property from the landlord.
What is a Residential Lease Agreement?
A Residential Lease Agreement is a lease specific to residential rental properties that outlines the terms and conditions of a tenancy, including the landlord's and tenant's rights and obligations. You can use it when renting apartments, houses, condos, duplexes, townhouses, and more.
A Residential Lease Agreement is also known as a/an:
Lease agreement
Rental agreement
Rental lease agreement
Rental contract
Apartment lease
House rental agreement
Lease form
Tenancy agreement
Rent-to-own lease agreement
Residential Lease Agreements are governed by municipal, state-specific, and federal landlord-tenant laws.
Is a lease the same as a rental agreement?
In the United States, there isn't a legal difference between a lease and a rental agreement.
A lease and a rental agreement are legal contracts between tenants and their landlord. They contain the same information and can be used for the same rental situations.
Some individuals may associate the term "lease" with tenancies that last for more extended periods, such as twelve months, and "rental agreement" with tenancies that last for shorter periods, such as one month.
Who needs a Residential Lease Agreement?
Any person renting residential property to or from someone else needs a Residential Lease Agreement. For example, the following individuals or organizations will find this document useful:
Homeowners looking for a temporary tenant
Individuals who own a rental property
Tenants moving into a new place
Property managers and tenant placement services
Landlords renting a home to family or friends
Individuals who want to rent with an option to purchase
Why do I need a Residential Lease Agreement?
A properly executed lease protects you whether you're a landlord or a tenant. Additionally, in some circumstances, a written agreement may be required by law.
When you and the other party rely on a verbal agreement, you may remember the original details of the arrangement differently and disagree about each of your rights and obligations.
For example, without a document to reference, the following situations could arise between a landlord and tenant:
The parties could have different expectations regarding a lease's end date or renewal terms.
A landlord could try to keep a tenant's security deposit as no agreement outlines the terms of returning the deposit.
A landlord could unfairly impose a rent increase even if they told the tenant they wouldn't.
A tenant could suddenly move out, leaving the landlord with unexpected financial loss.
A tenant could fail to pay some or all of the rental amount and the landlord would have difficulty proving the tenant's exact obligation.
A landlord could simply provide a tenant with an Eviction Notice and ask them to move out ahead of their original verbal agreement.
The best way to lower risk and prevent disputes is by creating a Residential Lease Agreement so you have a written document that you can reference.
Can I write my own lease agreement?
Yes, you can create your own lease agreement without the assistance of a lawyer or other professional. By completing our simple questionnaire, you will produce an enforceable lease that is crafted to your state's laws.
How do I create a Residential Lease Agreement?
Once you find a suitable renter, use our Residential Lease Agreement template to create a standard or comprehensive agreement. Both the tenant and the landlord should keep a copy of the signed agreement for their records.
Standard lease agreement
With a standard lease agreement, you must provide:
Contact information for the landlord and tenant
Property details, such as the address, square footage, and amenities
Lease specifics, such as the type of lease and length of the term
Rent payment details, such as the amount, frequency, and late penalties
Security deposit information, such as the amount and state-specific rules for returning the deposit
Rights and obligations for the landlord and tenant
Other details, such as dispute resolution methods, signing incentives for the tenant, and options to purchase the property or renew the lease
Comprehensive lease agreement
With a comprehensive lease agreement, you are also able to:
Specify if the property is furnished or not and provide a description of furnishings
Identify a property manager who will look after the property on the landlord's behalf
Allow a tenant to operate a home business on the premise
Require a pet deposit or fee
Appoint a guarantor to cover the financial obligations if the tenant defaults on rent
Should my lease end on a set date?
Depending on your situation, you may want a lease to end on a specific date or automatically renew after a certain amount of time. These options are known as fixed-term and periodic leases. Both types of leases carry their own advantages and disadvantages.
Fixed-Term Lease
A fixed-term lease has a predetermined end date. This type of lease specifies the start and end dates of the lease. Sometimes, a fixed-term lease can automatically convert into a periodic one at the end of the term. Alternatively, a landlord and tenant can create and sign a new lease with updated dates and information at the end of a lease term, or the tenant can move out. Generally, fixed-term leases are more rigid and require more commitment from both parties.
Periodic or Month-to-Month Lease
A periodic lease does not have a set end date and automatically renews after a certain duration. The most common example of a periodic lease is month-to-month. With this type of lease, the tenancy remains until either the landlord or tenant provides the other with appropriate notice signifying they want the lease to end. Periodic leases provide landlords and tenants with more flexibility to end tenancies as needed.
Do I need a Residential Lease Agreement to rent a room in my house?
If you are renting out a room in your home, as opposed to an entire unit, it's still essential that you create a Residential Lease Agreement with your tenant to outline their obligations.
When you and your tenant are going to share some living space, you must discuss boundaries and expectations at the start of the tenancy, such as when a landlord can legally enter the tenant's space, what house rules are in place, and more.
What is a rent-to-own lease agreement?
Rent-to-own, sometimes called option to purchase or lease-to-own, is when a tenant has the opportunity to purchase the rental property from their landlord.
For this type of arrangement, a renter pays a non-refundable option fee and in return, the landlord provides the renter with an option to purchase the home at a predetermined price. The landlord keeps the option fee if the tenant decides not to purchase the property.
A tenant may have the option to purchase if their landlord wishes to sell a home or unit, but the tenant does not qualify for a lender-based mortgage because of a poor credit score or an inability to pay the full deposit amount.
Our Residential Lease Agreement template allows you to include an option to purchase.
Related Documents:
Related Articles: